Hysun Marine inflatable fenders are designed to protect motorboats, yachts and sailboats from damage during mooring. Our Inflatable Fenders are made of extra heavy-duty PVC fabric that is resistant to tear and abrasion.
Hysun inflatable fenders can be stowed almost anywhere - deflated and then rolled up. Inflatable fenders can be inflated in a matter of minutes, and deflated even faster. Standard vinyl fenders are not exactly inflatable fenders, but basically inflated fenders that can't be deflated for portable storage.
Very often heavy vinyl fenders are stored away from a vessel, simply because there is no room on the boat for and extra fenders. Hysun inflatable fenders are portable, foldable and really great in their ability to be stored in a small spaces, and quickly inflated whenever they needed.We have two standard ranges of the fenders, INFS(standard) & INFU(upgraded version).We also offer customized extra Heavy-Duty 1.5mm PVC fenders, which is almost twice of thickness of regular PVC. We use only high-quality Korean PVC fabric with polyester support with excellent resistance to tearing, tension and breaking. Our INFU fender is much more heavy-duty than other more expensive fenders found on a market today.If you would like to customize your boats or need more details, please feel free contact us.
♦ INF Series Inflatable Fenders Reference Photos: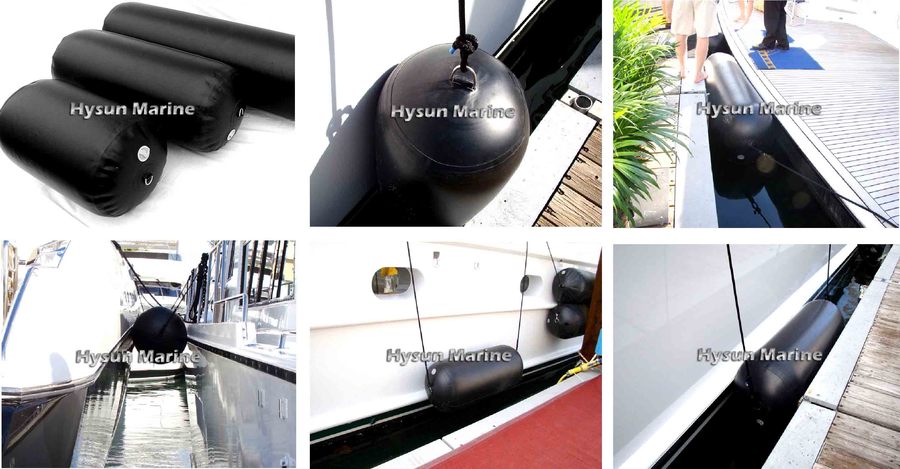 ♦ INF Series Standard Features(2016 Version):

* 0.9mm PVC for INF1-8 (1050gsm)

* 1.2mm PVC for INF9-13 (1165gsm)

* 3-layer seam tapes for INF1-8

* 5-layer seam tapes for INF9-13

* 1pc SS316 Dring on both sides for INF1-8

* 3pcs SS316 Dring on both sides for INF9-13

* 7cm width heavy-duty reinforced tape outside

* Color Options: L.Grey / D.Grey / Black

(0.5m 1pc, 1-2m 2pcs, 3m 3pcs)

* standard with inflation valve adaptor

* 10X stronger than traditional vinyl fenders

* Options: Customized Fender Sox.

* All Drings inside with 2nd layer cover for better ruggedness (Upgraded Version Only)

* Kevlar thread + 3pcs webbing sewing strips for Drings (Upgraded Version Only)
♦ Hysun Marine Inflatable Fenders Production Slide Show: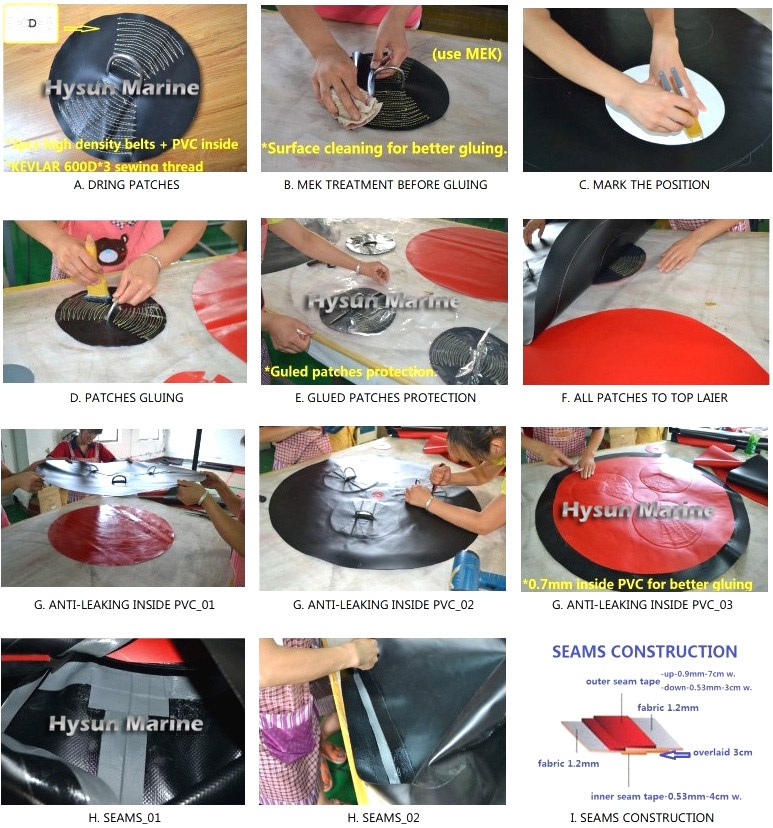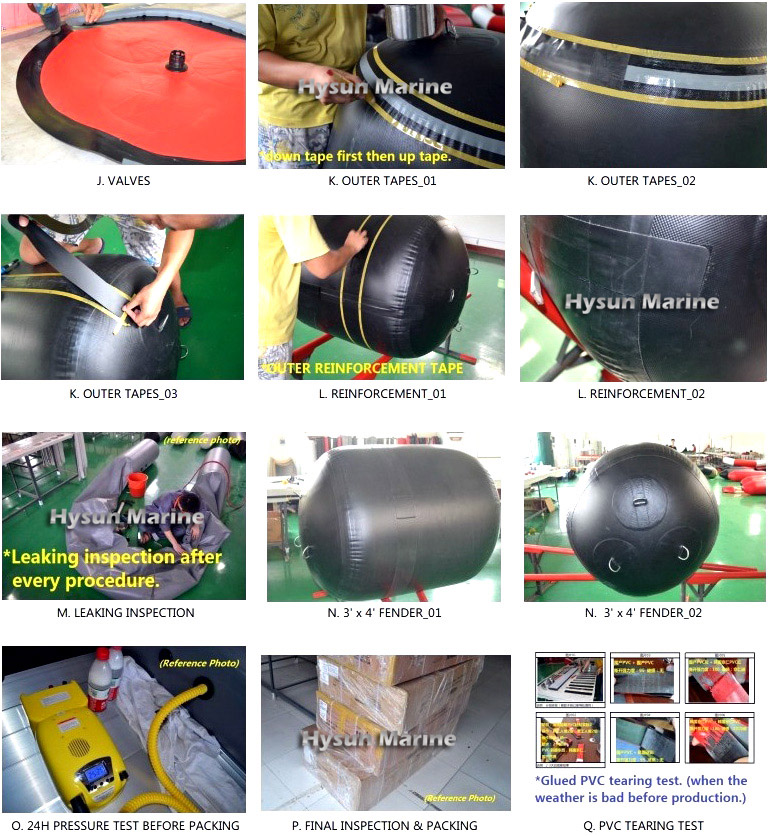 Frequently Asked Questions
The below FAQs are designed to provide a better understanding of our products and our business. They provide basic information, sometimes about fairly complex topics. If you have any questions that are not covered here or elsewhere on our website, please contact us through the form on our contact us page.
Fender Questions
What fender is right for my boat?
The choice of fender size and type is determined by many factors. However, due to the size, weight, and storage requirements of yesterday's fenders, the tendency to under fender your boat can now be corrected by the use of Hysun Inflatable Fenders. Now you will be able to size your fender to your boat and not your storage locker.
The suggestions below are guidelines only. Each boat, every owner, and all the docking and rafting situations they will encounter are different. As such, the captain must take everything into account when considering the purchase of the proper fenders for their boat or yacht.
1. The size of the boat, length and beam.
2. The type of boat.
3. The weight and displacement of the boat.
4. Can my crew or family members safely deploy and move the fenders when necessary?
5. What is the surface area of the boat that is presented to the wind? (Most sailboats present less wind surface than most powerboats.)
6. What is the draft of the boat? (A deep draft boat will be more affected by currents and a shallow draft will be more affected by wind).
7. The currents and tidal action where the boat will be docked.
8. The type of facilities, or lack of, where the boat will be docked.
9. Any rafting situations the boat may encounter.
10. The need or desire to increase the available storage space on the boat.
Hysun Marine Inflatable Fenders are available over 40 sizes, models, and types. They are in daily use on vessels from 17 feet long to over 500 feet long. You will be able to find a model and color that will serve your particular needs.
Use the following table as a guideline only. Lightweight boats and most sailboats can go one size smaller, heavy boats and high profile boats may go one or more sizes larger. If inflated size is a problem in your slip, use the Commercial duty model, but go one size smaller.