Hysun Marine VIB380 inflatbale boat, been designed originally as a quick response boat for fire departments and rescue units! I could be of PVC pontoon or Hypalon pontoon, which material life could last over 10 years. Compared with traditional boats, it do NOT have aluminum floors. You can quick inflate all chambers with the gas cylinder. With all chamber relief valves, quick inflation is safe.
With the hard working of our engineer, we successfully solved the problem of connecting the hypalpon pontoon to the DWF hull/bottom. I am very proud that we are one of the few companies in the world can do this. DWF is a new material, with the around 15psi high pressure inflation, the DWF hull could be as strong as tradition aluminum floor. Strong and light weight!
*V-type inflatable hull, quick inflation.
*Light weight & super stability.
*Heavy-duty rubbing reinforced bottom.
As a rapid deployment crafts made for search & rescue applications. Hysun VIB380 has been specifically designed to meet the demanding requirements of search & rescue organisations throughout the World. With all the above unique features, Hysun VIB380 can also fill a variety of functions. Extremely lightweight, they are easy to store or carry and can be set up in minutes. As inflatable manufacturer in China, customzied production accepted. Once you offer your detailed requirements, we can produce the boat according your needs. If you would like to work with us, please feel free contact us for more details!
♦ VIB380 Rescue Inflatable Boat Reference Photos: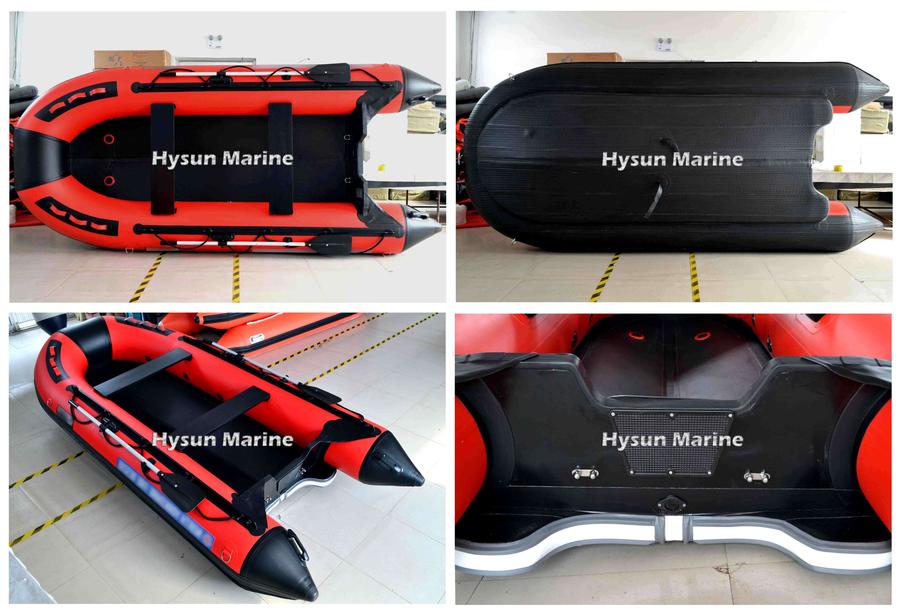 ♦ VIB380 Rescue Inflatable Boat Main Features & Specification:

* Mirasol PVC 1.2mm / Orca Hypalon 828 * Use Hypalon boat seams technics
* Professional rescue design * 5 new technics for transom water-proofing
*V-type inflatable hull, quick inflation. (increase service life of transom)
* 36mm 100% brich plywood transom * Transom full size PVC reinforced & bolted(optional)
* Transome with splash guard (give strong support when engine over rated)
* Rescue-level Nylon ropes for a secure grip * All stainless steel accs been used
* Rescue boat towing drings * Bag, oar, pump, repair kits all included
* 11cm wear-resistant rubbing strake * Neutral packing with exporting carton.
* Bottom 20cm rubbing strake protection * Solas Reflective stripe (optional)
♦ Hysun Marine Inflatable Boats Customers' Feedback: