Hysun Marine offers various models of inflatable SUPs for any type of water activity: Fishing, Touring, Exploration and Pleasure Cruising. ISUP boards are very hot in the market recent years. In order to meet customers' needs, our engineer re-designed and we improved the production technology. If you would like to customize your boards or need more details, please feel free contact us.
♦ Hysun 2017 New Design - OEM Model - S11' ISUP Package:

* Inflatable SUP for all- around performance.
* Lightweight, super durable DropStitch construction.
* Portable and easy to store- fits in a backpack.
* Versatile shape great for kids, dogs, families, beginners, experts, parties.
* Hardboard performance - inflates to a firm 15-18psi.
From relaxing summer days on the beach with family and friends to backcountry adventures in pristine lakes and streams, Hysun's S11' inflatable paddleboard is your ticket to user-friendly fun in the great outdoors. With a wide waist, tapered tail and gently rockered-nose, the S11' is designed for ultimate versatility. This is a shape that excels in all conditions, which is why we have made it the anchor of our entire SUP program. The S11' takes the guesswork out of choosing the right board from dozens of specialized shapes. It's light weight, durable, portable, super safe and it feels like a hardboard when fully inflated. Anyone looking for a sturdy and straightforward all-around board that will hold up for years to come, this is it.
Package includes: S11' paddle board, 9"FCSII quick release tool-less fin, dual action speed pump with pressure gage, heavy duty backpack, bow and aft storage bungees, repair kit Product size (inflated): 11' long, 34" wide, 6" thick, volume 331 liters. Total product weight: Approximately 25 pounds.
♦ Hysun 2017 New Design - OEM Model - S11' ISUP Details:
The 2017 S11' comes with a handy new keyless FCSII fin. No more tools, no more lost parts, this system features integrated components that make installing and removing your fin as easy as snapping it or out of the track. Also for 2017, we've relocated the inflate/deflate nozzle at the front of the board away from the fin track, which makes deflating and rolling it up even easier.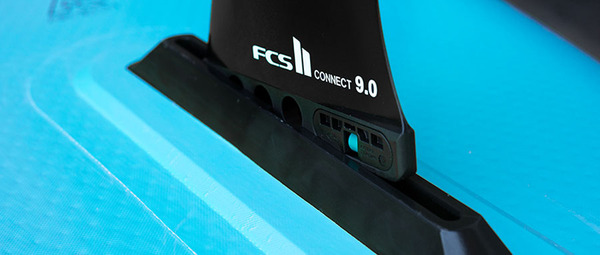 ♦ Hysun 2017 New Design - OEM Model - S11' ISUP - Triple-Ply Construction:
Triple-Ply Construction: Slingshot has packed a great deal of design and technical innovation into this lightweight and incredibly durable paddle board. When fully inflated (15-18PSI), the Crossbreed AirTech is rock solid and paddles as well as standard hardboard thanks to its high-tech triple-layer construction.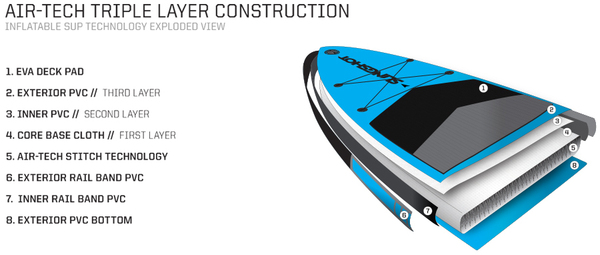 The S11' is built for durability and performance. The key to this is its V-Drop Stitch construction. This interior stitching allows for the high-pressure inflation that gives the board structure, shape and rigidity- all features that are necessary for solid overall performance and durability.

♦ Standard Design & Workshop Photos: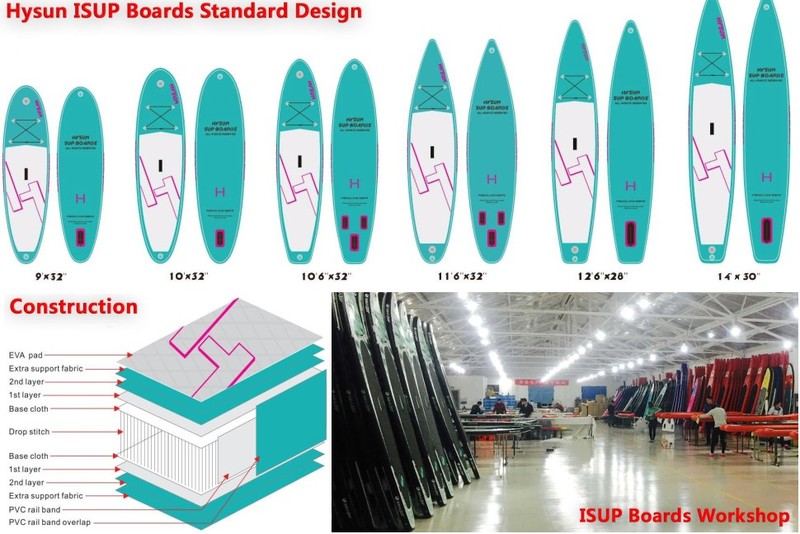 ♦ Why Choose Hysun ISUP Boards?
* 2 years limited warranty, 1 years full warranty!
* Factory direct! Production capacity 1200pcs/month.
* Quality drop stitch fabric from China, Korean & Taiwan meeting all customers' needs.
* Korean & Chinese engineers offer various optional designs for new customers.
* Optimised design enhancing rigidity & stability.
* Raised rocker tip design prevents curling and helps improve performance.
* Portabble, compact ISUP boards are great for traveling.
* Great for paddling on lake or ocean surfs.
* Great for balance and upper body workout.
* Can be used as an inflatable kayak.
* Explore lake shores, rivers, and bays.
* Easily reach your favorite fishing spot.
* Quality drop stitch based core. * 1 color antiskid EVA deck pad 1EA.
* Anti-UV.anti-mildew, anti-fire PVC fabric. * Standard center grip handle 1EA.
* Full Double Layer Light Technology. (2 layers polyester webbings + 1 layer Neoprene)
(Both sides reinforced enhancing ruggedness.) * Standard removable central fin 1EA.
* 22psi max working pressure . * Standard non-removable side fins 2EA.
* Halkey-Roberts inflation valve 1EA. * Standard repair kit 1EA.
* Standard Uers caution rubber ring 1EA. * Neutral packing with exporting carton.
* PVC patches 4EA with black elastic rope. * Bar code & logo printing on packing FREE.
* Stainless steel 316 Dring for docking 1EA. * Backpack, pump & paddle are NOT included.
* Stainless steel 316 Dring for leash 1EA. * Customized printing are NOT included.