CKB470XL-15' Extra Heavy-Duty Expedition Inflatable Kayak Boat
Hysun Marine new upgraded model of CKB470XL, 15' extra Heavy-Duty expedition inflatable kayak boat, oversized 16" diameter tubes and spacious interior make the CKB470XL kayak boat perfect for remote expeditions, fishing or hunting in a rugged wilderness, away from civilization. CKB470XL can also be used as heavy-duty work boat. Air floor can be protected with marine carpeting or vinyl flooring from local hardware store against accidental punctures by heavy and/or sharp objects.
CKB470XL kayak boat model has 4 separate air chambers for extra safety, compared to 2 standard chambers of regular sized kayak boats. Extra heavy-duty rub strake protectors are installed along both sides of the tubes for maximum durability.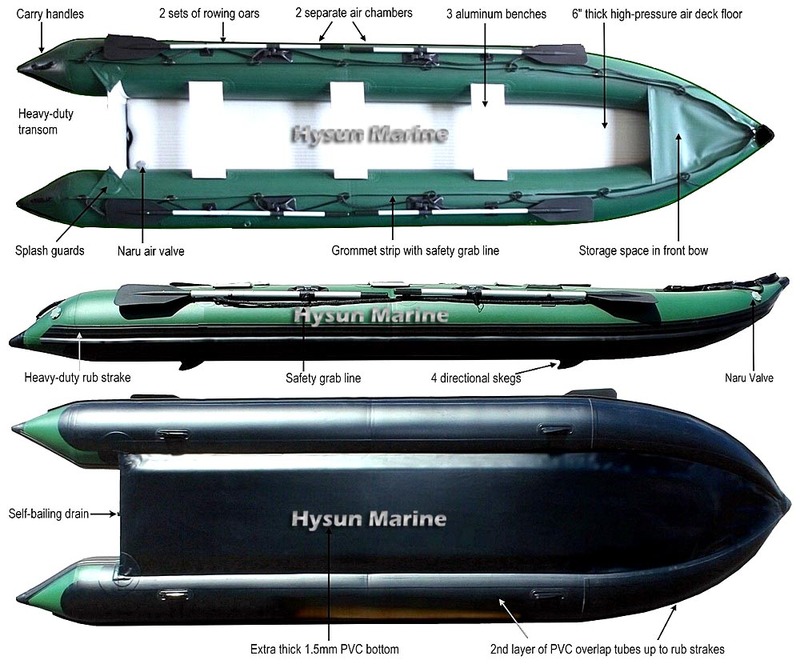 Hysun CKB470XL kayak boat equipped with 2 sets of oarlocks and 2 sets of rowing oars for tandem rowing by 2 persons.If you would like to know more details, please feel free contact us!
Premium Features make CKB470XL kayak boat unique!
1.Extra thick 1.5mm PVC bottom, compare to standard 0.9mm PVC.
2.Bottom of tubes overlapped with additional layer of PVC up to the rub strake protectors.
3.New model CKB470XL have shorter and lighter aluminum seats, triangular splash guards over transom corner, and grommet splash strip with rope all along boat tubes.
Following specs are standard for this model:
1.Same heavy-duty 1100 Denier PVC as in Hysun Marine boats & rafts.
2.Front spray skirt with water deflector guard and rope lacing.
3.Marine grade plywood transom with a one way drain plug.
4.Extra thick, high-pressure 6" (150mm) inflatable air deck floor.
5.Durable rub strake protectors along boat tubes.
6.4 fins on bottom of tubes for improved tracking.
7.4 (four!) separate air chambers for extra safety.
8.2 sets of rowing oars with 2 sets of oar locks for tandem rowing.
9.3 lightweight aluminum removable benches.
10.Included: hand pump, repair kit, 4 oars and carry bag.
CKB470XL Technical Specifications:

Exterior Length

15' | 470cm

Exterior Width

50" | 127cm

Interior Width

18" | 45cm

Tube Diameter

16" | 41cm

Shipping Size

51''x28''x12" | 130cmx71cmx30.5cm

Shipping Weight

125 lbs | 56.6kg

KaBoat Weight

100 lbs | 45.3kg

Person Capacity

3+1

Weight Capacity

1000 lbs

Chambers

4+1

Material

1100 Denier PVC

Air Valves

Halkey-Roberts type valve

Max. Engine Capacity

10HP 4-stroke or 15HP 2-stroke

Inflation time

up to 10 min.

Color

Green or Dark Gray
New CKB470XL Dark Grey Photos:


Most Recent Customer Review of CKB470XL-15' Extra Heavy-Duty Expedition Inflatable Kayak Boat:
"As promised I send you some pictures from Croatia with Kaboat. We are really pleased from our new boat. We made some nice trips from island to island on open sea. Warmest Regards from Poland" Marcin