Need a Boat Certificate of Origin Right Now ? No Wandering!
Characterics:The Product has Receive the TUV certification from the America Coast Guard.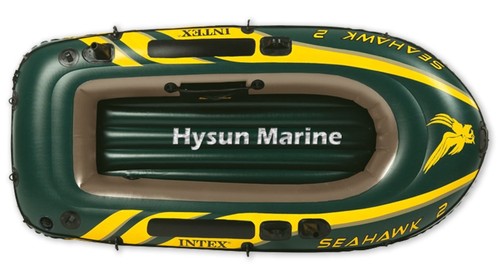 Features:
1.Special Meterial ,SUPER - TOUGH part is high strength adhesive can Resist gasoline, oil and salt water erosion and abrasion resistance at the same time.
2.Three air chamber: quickly deflated.inflatable spiral is located in the hull of the wind.
3.The boat equipped with auxiliary chamber.
4.After filling, can make it more comfortable and sturdy.
5.The boat with a rope, the bow with the grip.
Description:
This 2-Person Capacity Boat is perfect for a day on the lake, whether you are fishing, camping, or just cruising! Lightweight and compact, this inflatable boat is a snap to assemble and can be ready for water in no time. This summer take the fun of boating wherever you go! Get ready for your next great adventure in the Seahawk series of boats.If you looking for a day at the lake with the family or fishing with friends the Seahawk series has something to fit your needs.Upgraded features and rugged vinyl construction make this a great boat for anyone.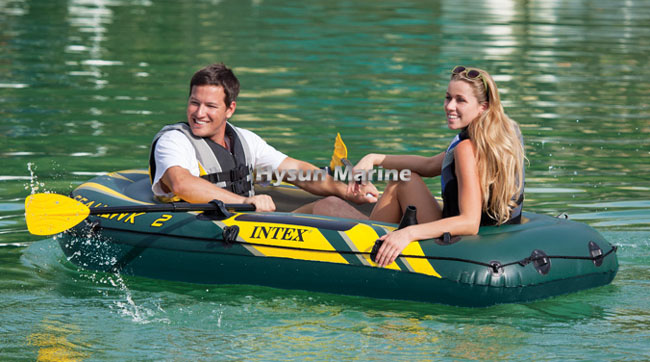 *Size:236cm×114cm×41cm
*Set includes 48" Oars and high output pump.
*Product Dimensions: 98×45×16 inches
*Item Weight: 18.4 pounds
Package:
1.Boat
2.Pair of Paddle for the Boat
Popular FAQS:
Q1.What should I do if the motor does not start and the power indicator does not turn on?
A1.First ensure correct polarity connection and reverse if necessary. Connect the positive (+) red wire to the positive (+) battery terminal, the negative (-) black wire to the negative (-) battery terminal. b) Check if the power turns on and ensure battery cable clamps are secured and tighten. c) Recharge or replace the battery if there is no problem with the connections.
Q2.Why is the motor vibrating heavily?
A2.The following reasons may cause the motor to vibrate: a) Propeller is not positioned in the right depth. You may adjust the depth of the propeller. b) There may be some weeds, fishing line or objects entangled the propeller which needs to be removed. c) Check if the propeller is loose or broken. Replace it if broken. Then check the transom mounting bracket clamps and the steering tension knob to see if they are tight.
Q3.Why does the weed escape control button not respond after I press the button?
A3.Ensure the control handle is in "O" position first, then press and hold the weed escape control button until the operation is over. If it still does not work, please contact the Intex service center listed in the manual.